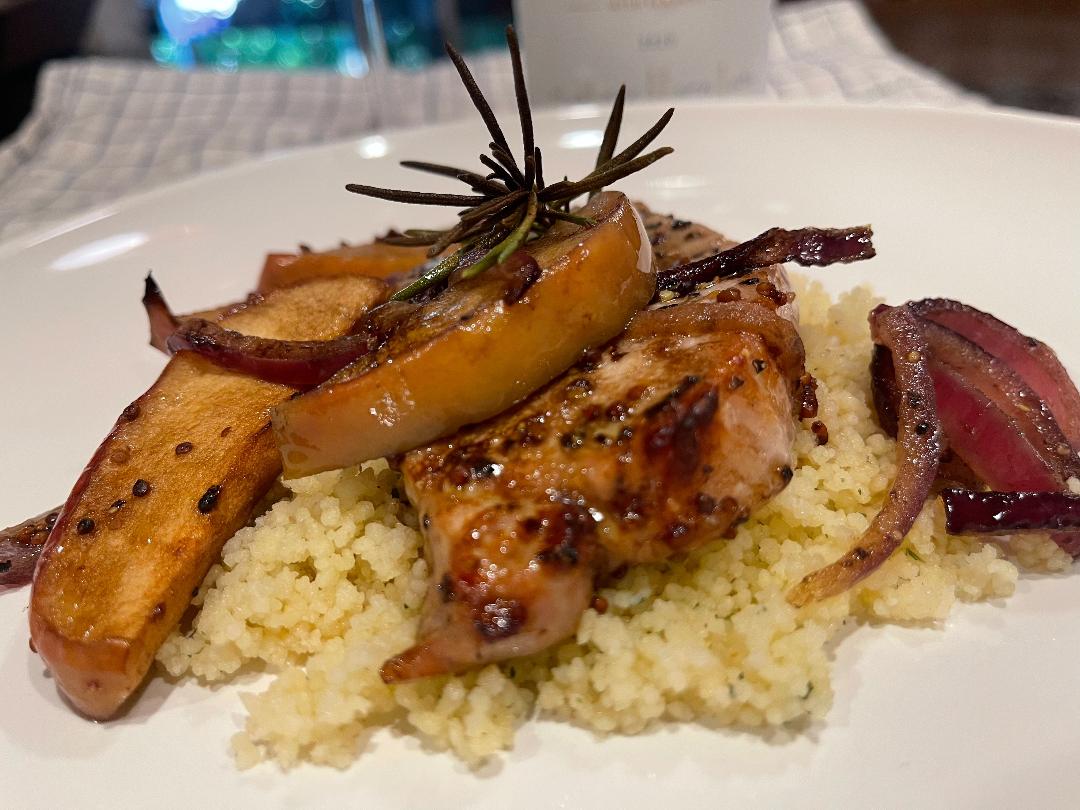 INGREDIENTS:
1/4 c. extra-virgin olive oil
1 1/2 tbsp. balsamic vinegar
2 tsp. maple syrup
2 tsp. whole-grain mustard (Maille)
Kosher salt
Ground black pepper
1 small red onion, halved and sliced
2 sweet-tart apples (such as Honeycrisp or Pink Lady), cored and cut into 8 wedges each
4 (1″-thick) boneless pork chops (about 1½ lb. total)
4 sprigs fresh rosemary
DIRECTIONS:
                        Preheat oven to 425° and place racks in the center and upper third of the oven. In a small bowl, whisk olive oil, balsamic, maple syrup, mustard, and ¼ teaspoon each salt and pepper. 
                        Add onion and apple to a medium bowl. Drizzle with half of the balsamic mixture and toss to combine. Season with ¼ teaspoon each salt and pepper.
                        Season the pork chops on both sides with 1 teaspoon salt and ¼ teaspoon pepper. Nestle the pork chops in a rimmed baking sheet and add the onions and apples. Brush the remaining half of the balsamic mixture on both sides of each chop. Top each chop with a rosemary sprig. Place in the center rack of the oven and bake until apples and onions are softened, about 15-18 minutes.
                        Increase oven temperature to a high broil. Remove rosemary and place the sheet pan on the rack in the upper third of your oven and broil until chops are slightly caramelized, 3 to 5 minutes, depending on the strength of your broiler. Let pork rest at least 5 minutes before slicing. Serve pork with apples and onions with any pan juices spooned over top. Serve alongside couscous, crispy Tater Tots or mashed potatoes. Add the baked rosemary or fresh rosemary on top of pork chops.