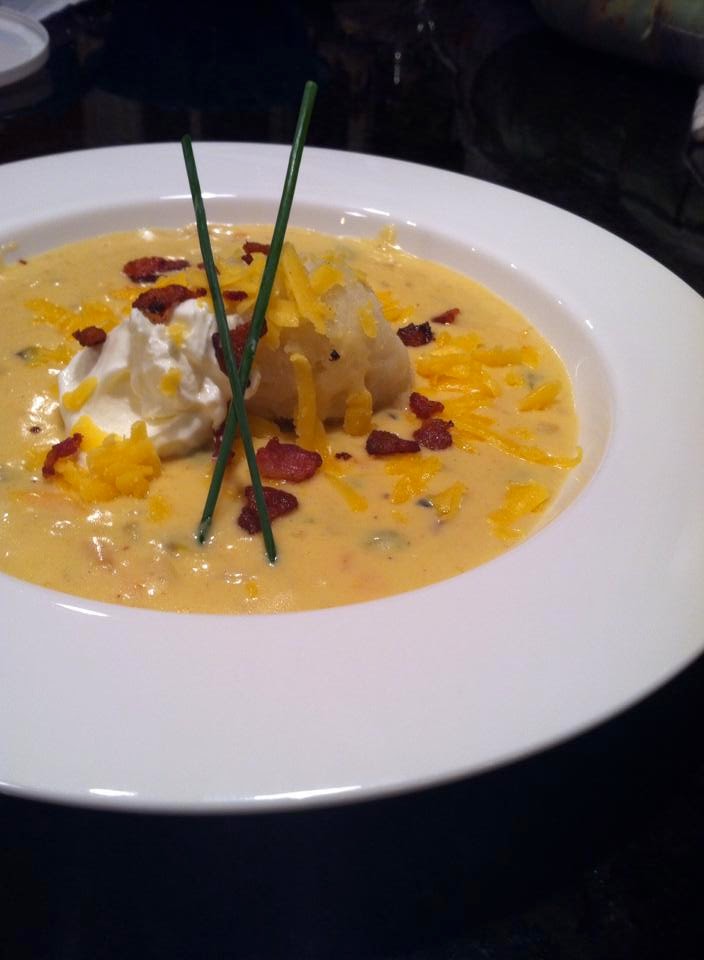 I visited Tilted Kilt in Chino California recently and enjoyed a cup of their cheesy beer soup. I enjoyed it so much I wanted to recreate something like it at home. Not really knowing all the ingredients besides it having tons of delicious cheese, beer, and some spice I decided to take a stab at it. A couple of my girlfriends Tam and Mel got wind that I wanted to make this soup and they came over to make this masterpiece as a team. It couldn't have turned out any better. Just the right amount of heat, the right amount of thickness and above our expectations on taste. We could have eaten the entire pot. What is great about this soup is that you can design it yourself. If you don't like bacon, leave it out and only sauté the vegetables with butter. If you don't like spicy, then don't add any of the seeds. We actually used lactose free milk and it turned out creamy, probably because of the cheese and whipping cream. Have fun with this one and share it with everyone. You don't want to miss out on this meal in your home.
4 strips of bacon, diced and cooked until crispy, reserve oil
4 Tablespoons unsalted butter
1 large yellow onion, diced (1.5 cups)
1 Jalapeno Chile, charred over open flame (remove seeds)
1 Serrano Chile, charred and reserve seeds *** If you don't like it spicy, remove these seeds as well
3 cloves peeled garlic, minced
1/4 cup all-purpose flour
1/2 cup half-and-half or whipping cream
12 – 16 ounces beer (German beer: St. Pauli Girl or GUINESS Stout)
1 Tablespoon Dijon or stone-ground mustard
10 ounces sharp cheddar, shredded (feel free to add other cheeses such as brie or Gouda)
Hearty pinch of white pepper or ground black pepper
Rinse your russet potato, pierce it with a knife, rub it with olive oil and sprinkle kosher salt on the outside. Bake it on 450 for 1.5 hours or until outside is crispy. Remove the middle potato and mash it until smooth. Reserve off to the side for later use. Enjoy the peeling now or dice it up for toppings on your soup.
On an open flame, using tongs, rotate jalapeno and serrano chilies until they are roasted on the outsides. Remove seeds from jalapeno and toss them. Finely dice the jalapeno and serrano chilies.
In a large stock pot, on medium heat cook your bacon until crispy. Remove the bacon onto dry napkins until later.
Using the bacon grease, add in your butter, diced onions, garlic, jalapeno, serrano pepper, serrano seeds, celery, and carrot and sauté for about 10 minutes.
Add the flour and stir well. Cook, stirring frequently, for 3 minutes until the flour turns golden brown.
Combine the milk and half-and-half. Slowly pour into flour mixture, whisking constantly until combined.
Turn the heat up to medium-high and add the beer and mustard. Bring to a boil, whisking frequently until foam subsides.
Simmer on low heat for 10 minutes until thick. Remove from heat and whisk in the cheese a handful at a time. Taste and add salt and pepper as needed. Add in all the mashed potato is optional. We did a scoop in each bowl and didn't blend it into the soup.
For the best bowl of soup: place a ½ cup of mashed potato in the center of the bowl. Pour the cheesy soup around the mashed potato and the top your soup with your favorite toppings such as crispy bacon, sour cream, crispy potato skins, diced chives and additional shredded cheddar cheese.
The Wanderlust Kitchen:  http://thewanderlustkitchen.com/30-minute-german-beer-cheese-soup/