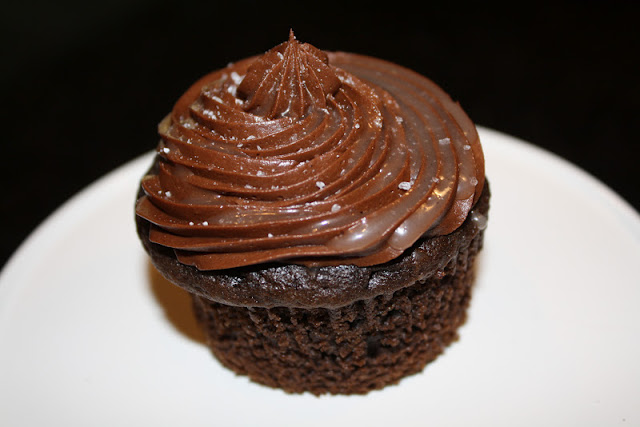 Makes 24 regular cupcakes.
Cupcake Ingredients:
1/2 cup (1 stick) butter, room temperature
1-1/4 cups sugar
2 large eggs, room temperature
3/4 cup flour
1/2 teaspoon baking powder
1/4 teaspoon baking soda
1/4 teaspoon salt
1/2 cup unsweetened cocoa powder
1/2 cup milk
1 teaspoons vanilla
2/3 cup mini semi-sweet chocolate chips (optional)
Directions:
Beat butter until softened.
Add sugar and beat until light and fluffy, about 3 minutes.
Add eggs, one at a time, beating until well combined.
Measure the flour, baking powder, baking soda, salt, and cocoa powder into a small sized bowl and whisk to combine.
Measure out the milk and vanilla and stir to combine.
Add about a third of the dry ingredients to the butter/sugar and beat to combine. Add about a half of the milk/vanilla and beat to combine.
Continue adding, alternating between dry and wet and finishing with the dry.
Stir in chocolate chips.
Scoop batter into cupcake cups about 1/2 full.
Bake at 350 degrees for 22-25 minutes or until a cake tester comes out clean.
*** If you don't have time to make the cupcakes from scratch, you can use one box of Pillsbury Moist Supreme Dark Chocolate.
Caramel Sauce:
Yield: 1 cup
Ingredients:
1 cup sugar
1 tablespoon corn syrup
1/4 liquid cup water
1/2 liquid cup heavy cream, heated until warm
2 tablespoons unsalted butter, softened
½ teaspoon fine grain sea salt
1 teaspoon pure vanilla extract or fresh vanilla bean
Directions:
In a heavy saucepan (at least 5 cup capacity), stir together the sugar, syrup, and water until the sugar is completely moistened. Place your candy thermometer into the pot taking care that it is tip in immersed into the sugar mixture.
Heat, stirring constantly, until the sugar dissolves and the syrup is bubbling. Stop stirring completely and allow it to boil undisturbed until it turns a deep amber (like the color of Bass Ale) (see notes below). Immediately remove it from the heat and slowly and carefully pour the hot cream into the caramel. It will bubble up furiously.
Use a high-temperature heat-resistant rubber spatula or wooden spoon to stir the mixture until smooth, scraping up the thicker part that settles on the bottom. If any lumps develop, return the pan to the heat and stir until they dissolve. Stir in the butter and salt. The mixture will be streaky but become uniform after cooling slightly and stirring.
Allow the sauce to cool for 3 minutes. Gently stir in the vanilla extract.
Notes:
– Keep at room temperature for up to 3 days; refrigerated, about 3 weeks. To reheat, simply place in a microwave safe container and heat for about 45-60 seconds. Stir well.
– I have 3 thermometers and they all register different temperatures. In my opinion, it's best to rely on the color of the caramel as opposed to the temperature. You want to look for a dark dark amber color. However, dark amber goes to burnt in a matter of seconds. If using a thermometer, start paying close attention at about 340 degrees. Once the color deepens, pull the mixture from the heat.
Tempting Twist:
Use fresh vanilla bean instead of vanilla extract. Simply scrape the seeds from inside ½ vanilla bean. Place the seeds and pod into the cream while it's warming. Remove pod from the cream before adding to the hot sugar mixture.
"Perfectly Chocolate" Chocolate Frosting
Ingredients:
1/2 cup (1 stick) butter or margarine
2/3 cup HERSHEY'S Cocoa
3 cups powdered sugar
1/3 cup milk
1 teaspoon vanilla extract
Directions:
Melt butter. Stir in cocoa. Alternately add powdered sugar and milk, beating to spreading consistency.
Add small amount additional milk, if needed. Stir in vanilla. About 2 cups frosting.
FINAL STEPS to making the best Chocolate Caramel Sea Salt Cupcakes:
To assemble the cupcakes, cut a small piece out of the center of each cupcake. Mine were probably close to an inch in diameter and about the same depth. Insert a paring knife at a slight angle to core the cupcakes. Once you do it a few times, you'll get the hang of it and it goes quite quickly.
Spoon or pipe caramel sauce into each cupcake. Sprinkle a pinch of sea salt over the caramel in each cupcake. Cover each cupcake with the pieces you removed earlier. If the pieces don't fit perfectly, it's okay as the frosting will cover up any imperfections.
Spoon, spread or use a piping bag with a generous amount of chocolate frosting onto each cupcake and sprinkle another pinch of sea salt on top of the chocolate, followed by some dribbles of caramel sauce.
NOTES: If you don't have the time to make your cupcakes from scratch, you can purchase a box of Duncan Hines Decadent Chocolate Cake Mix.