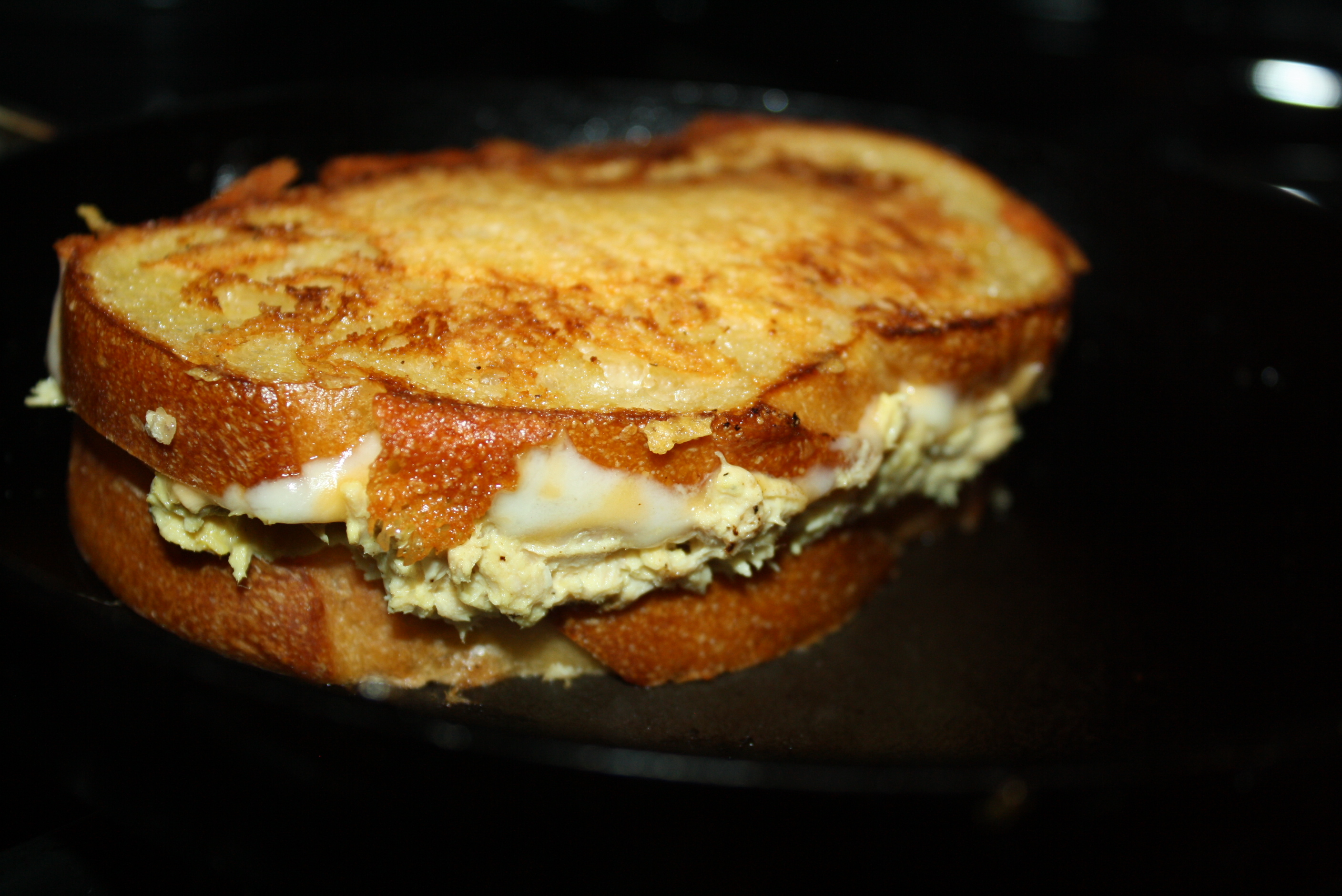 My Husband loves Tuna Melts. When I first started dating him I asked him if he would like a tuna melt for dinner. He asked what it was. He had only eaten tuna out of a can but never had a tuna melt in his life. Now they are one of his all time favorite things to eat. 


7 ounce can of Chicken of the Sea Albacore Tuna in Water (drained)
Slices of your favorite cheese, cheddar, jalapeno, Muenster, etc.
Chopped raw red onions, crispy Bacon, lettuce, pepperchinis, pickles, avocado, are all optional
1 flat skillet for grilling
Open and drain the water from the tuna. Put the tuna in a bowl and use a fork to break the tuna into little pieces (spend time on shredding it). Add your desired amount of mustard and mayonnaise. I use about 1 teaspoon of French's mustard and about 2 teaspoons of mayonnaise. Sprinkle 1/2 teaspoon of pepper in and mix it all together.
Heat your pan to medium heat
Sprinkle some 
Parmesan
 onto the pan
Butter one side of two slices of San Francisco sourdough bread. On one opposite side of the buttered slice of sourdough lay 1-2 slices of cheese and put the butter side down on the pan. Heat it until the cheese melts and the butter side is toasted. You can add slices of avocado on top of the cheese if you want an extra delicious tuna sandwich. You can also add crispy slices of bacon. Include your addtional ingredients if you desire before adding the top slice of bread
The other slice of sourdough butter side down spread the tuna on the slice of bread (not on the butter side). You can use only half the tuna if you don't want that much. Put the tuna face down on top of the cheese and flip the entire sandwich over so the butter is face down on the pan. Grill it until browned
Slice the sandwich in half and serve with a dill pickle on the side for a garnish