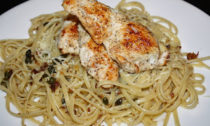 My husband loves chicken piccata, he loves pasta and he loves bacon so that gave me the idea to basically combine all of it into one dish. This was enough to feed him two different dinners.
½ pound Linguine noodles (half of a box)
2 large chicken breasts cut in half lengthwise
2 tablespoons finely chopped fresh garlic
1-2 tablespoons crispy finely chopped...
Read More