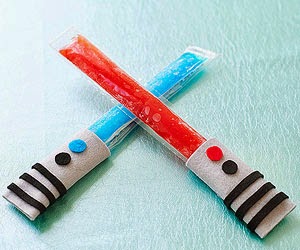 Star Wars and Otter Pops go hand in hand. Freeze Pop Sabers! 
Feel the force of ice cold refreshment keeping kids hands unfrozen, and giving them a keepsake takeaway gift when they leave your party. Adorable kid sized cozies. I purchased all material from Hobby Lobby and used a coupon for 40% off the glue. Total was around $7.00 out the door. This took about 2 hours with 2 of us working on it. One cutting and the other doing the glue + a glass of wine to help the time go by quickly. We made about 30 holders total.
Colored Felt, leftover scraps in various colors are perfect for this!
Fabric Glue – We used E6000 found at Hobby Lobby
For each, cut a 3- by 4-inch rectangle from gray felt. Fold it over a freeze pop and use fabric glue to seal the side and bottom edges. Clamp the fabric closed with binder clips or clothespins, if needed. Slip the felt off the pop. Glue on stripes and dots of black and colored felt. When your pop is frozen and the glue is dry, you're ready to battle the heat! We let our glue dry on the holders overnight before putting the cold pops in them. If it is a hot summer day, you can chill the pops in an ice chest one top of a block of dry ice, layer a towel on top of the ice and then the pops can rest on the towel in the light saber holder or place it in the holder as each kid comes up to choose their color pop.
This craft is easy and fun. We made at least a dozen so that we have enough available for when friends visit. The kids really love the theme of it and are even happier that their hands don't get cold. Sometimes it really is the little things that add so much to their day. Enjoy your Star Wars themed pops all year long!