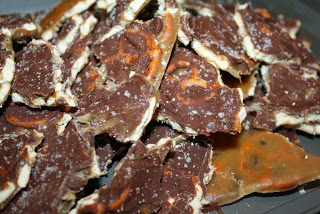 Adding Ghirardelli Classic White Chocolate Chips before chocolate


WARNING: Everyone will love this recipe! Pretzels will never be this good. The best is storing them in the freezer and grabbing one out every time you get a craving.
Ingredients:
– 1/2 bag mini pretzel twists – Snyder's of Hanover Mini Pretzels (about 100 of them)
– 2 sticks of butter, I used salted creamed butter
– 1 cup of dark brown sugar, you can also use light brown sugar
– Optional: 1 bag of 11 oz. white chocolate chips, gives it color
– 1 bag of chocolate chips, 11.5 oz. Toll House Milk Chocolate
– Fleur de sel French sea salt or any Sea salt (I found it at William's Sonoma $14.95 – WORTH every penny!)
Directions:
Line a 15.5 x 10.5 jelly roll pan with aluminum foil or parchment paper (do NOT use wax paper) and spread pretzels evenly over the bottom in tight rows if you are OCD like me (don't overlap).
Now, preheat the oven to 350 F.
Set the pan aside, and melt butter and sugar in a medium sauce pan over medium heat. Bring to a boil, and stir continuously until mixture sticks to the bottom of the pan and forms a smooth caramel. Let it bubble and get nice and thick (estimate 5+ minutes) before you pour the caramel evenly over the pretzels. If the caramel doesn't spread all over, don't worry…it will spread in the oven.
Place jelly roll sheet in oven with pretzel and caramel for 5 minutes.
Remove the pan and sprinkle entire bag of chocolate chips evenly over the top, and place back into the oven for 1-2 more minutes.
Remove the pan and spread the chocolate around with a spatula until it is mostly melted, then sprinkle generously with sea salt.
Let the pan sit on counter top for about 5 minutes, and then place in the freezer to harden for at least two hours.
Remove pan from freezer and let sit a couple minutes, then peel off the toffee bark breaking the bark into pieces with your hands. One bite of this and you will devour all of it. HIGHLY suggest storing this in the freezer and eating it right out of the freezer an air-tight Ziploc or Tupperware. You may also consider putting in nice bags for holiday gifts/parties. We took ours camping, stored in the toy-hauler freezer and gave it to everyone though out the weekend. MAJOR HIT!
Notes: If you don't like pretzels, you can also try this recipe using graham crackers:
http://madieskitchen.com/2013/04/chocolate-crack/