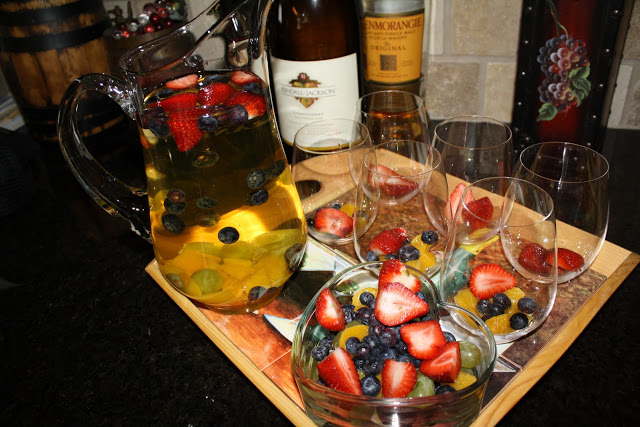 INGREDIENTS:
2 x 750mL (the same) bottles of your favorite Sauvignon Blanc wine
2 cups of St. Germain Elderflower Liqueur
Use all fresh fruit – These are suggestions and the one's I like to use:
1 package of strawberries, remove tops and cut in half
1 package of blueberries
1 package of raspberries
3 fresh peaches, remove pit and cut into half moons
1 bunch of Green or Red seedless grapes
Yields: 16-20 glasses of Sangria. I always double my recipe for parties of 30 or more. It never goes to waste!
DIRECTIONS:
Combine the wines, liqueur, and 1/4 of the fruit in a pitcher or carafe. Refrigerate for 1 hour before serving.
Place the remaining fruit in a bowl so your guests can chose their favorite fruits.
Give each guest an ice-filled wine glass or have ice on the side.
Let them add their favorite fruits to the glass and then fill up each glass with Sangria.
Prepare to drink a lot of these! I would keep a spare pitcher in the fridge, just in case.
As the fruit sits at the bottom of each glass, it gets infused with Sangria and is so delicious to eat at the end.
Inspired by:
https://www.foodandwine.com/recipes/sangria-flora